Interior Minister Gérald Darmanin launched his 2027 pre-campaign. After losing the battle against Élisabeth Borne for the premiership, the Interior Minister not only declared that he was already interested in 2027, but also got a serious supporter in the person of a former president, Nicolas Sarkozy. Darmanin will organize a personal season opener at the end of August, which will certainly bring him a few days of additional media attention. At the same time, although he is the most visible centrist candidate right now, he is not the most likely one.
The Interior Minister everywhere: a spectacular activity
While most ministers read their background materials in their summer solitude, Gérald Darmanin is extremely active and therefore extremely visible. Of course, there are topics on the agenda (e.g. the drug war in Marseille, official overseas trip to Polynesia) that require the presence of the Minister. In other words, this activity presupposes a certain situation as a given. At the same time, Darmanin himself adds to the attention. For example, he gave an interview to the right-wing Le Figaro, in which he insisted on social issues and thus positioned himself as someone who wanted to appeal to the left of the Macron block, as well as to the social Gaullists.
Gérald Darmanin came to the Macron block from the Republicans, so he is seen as a prodigal son there. As Interior Minister, he has a right-wing image, which is a challenge for him on the left of the Macron block. Thus, this is a balancing act for him, since this wide immersion was certainly a missing resource during his campaign for Matignon (moreover, Macron could not have wanted to have to handle such an autonomous prime minister either).
Since few people are active in the summer, the President is on holiday and the press is only paying attention to the programs of the season openers, Darmanin's message (spiced up with Nicolas Sarkozy's position that he would like to see him as president), is sure to do one thing: plant the idea in people's minds that Darmanin is heading for the Élysée.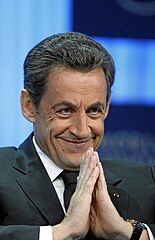 Planting the idea that Darmanin is heading for the Élysée
The above mentioned planting practice is important. There are other candidates who are trying to get the same message into people's heads. Former Prime Minister Édouard Philippe is one of them. It's a competition. Of course, planting will also be the goal of Gérald Darmanin's season-opening summer event on August 27. This is organized by members of the presidential party, but it is a personal event. It is expected that Darmanin will try to make all kinds of new alliances and showcase them, thus make progress in building a presidential persona. It will be worth watching where he puts the emphasis, to whom he sends messages, to whom he offers a hand, and whether he maintains the announced social line or not (and how much it will be accepted by the left of the Macron block, which is obviously not the Gaullist right where social messages are fully compatible with heavy-handed law enforcement messages).
Gérald Darmanin starts from a disadvantaged position on the presidential market
In a previous article we already talked about the poll below, in which Marine Le Pen would win the second round against President Macron. Now let's take a look at Gérald Darmanin's first round numbers, because they are very interesting! Compared to Édouard Philippe's 26-28 percent, Darmanin has no outstanding results as a potential candidate of the presidential party. In fact, this might be an understatement. His numbers, at least for now, are rubbish. If Darmanin was the candidate of the presidential party (see columns), then he could expect only 11% in the first round. In this case, Marine Le Pen would get 35%. This is one of the strongest scenarios of the RN candidate. Since Gérald Darmanin would not make it to the second round (in the current situation, that is), the final would be decided between the radical left and the radical right.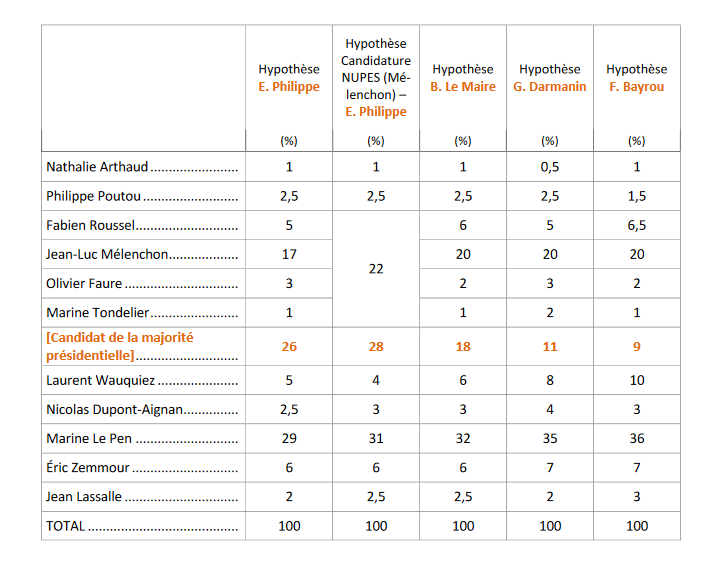 With such figures, Gérald Darmanin starts at a disadvantage. The first thing potential backers look at is what his chances are. And they will be watching this in the coming months, too. Is the trend upward or stagnant? (The early supporters, the loyal ones always expect a big reward in case of victory, so whoever "bets on the right horse" can build a lot of trust. This means that not only Darmanin, but potential followers calculate their odds, too.)
Of course, it is true that the French presidential elections are never decided three or four years before the nomination of candidates. Thus, a bad opinion poll is not fate. Moreover, Édouard Philippe's good numbers can also be explained by the fact that he is not currently governing. Darmanin, on the other hand, is a Minister. In other words, he has to make controversial decisions and sometimes take up divisive positions. See, for example, the case of police violence, where "France's first policeman" logically sided with his men. This situation clearly leaves more room for Darmanin on the right than on the left. In other words, Darmanin, who comes from a Republican background, can build pathways towards his former party more easily than towards the left of the Macron block.
Nicolas Sarkozy is an important supporter, but he has his limits
At this point, his analysis may meet that of former President Nicolas Sarkozy, who considers this rapprochement necessary. Sarkozy was willing to burn a lot of political capital for this belief. Indeed, the former president did not support the candidate of his own party in 2022, but rather Emmanuel Macron, which made his relationship with the Republicans understandably strained. Moreover, he was also one of those who supported the cooperation of Republicans and Macronists (while Republican party leaders announced one after another that they were in favor of independence).
Thus, Sarkozy cannot build a Republican block behind the Interior Minister. That's not why he's an important supporter. Not because of his public support either – the Sarkozy brand has been significantly damaged by legal cases and court rulings in recent years. He is an important supporter because Sarkozy has already done what Darmanin is preparing to do: he won the Élysée Palace from the Ministry of the Interior. In other words, he can tell Darmanin what to do to succeed. And such a mentor is worth its weight in gold.
It might bother him, but the activity of the Interior Minister doesn't hurt Macron (neither other candidate activities)
Of course, speculations, leaks, messages began to flow about whether the president likes Gérald Darmanin's pre-campaign or not (according to leaks, obviously not). This may well be the case, but Macron cannot do much about the fact that the 2027 race has started behind his back.
Since he cannot run again in 2027, it makes sense that candidates and self-nominated candidates are flocking to put themselves in a good position. Gérald Darmanin is one of them. This is obviously unpleasant for the president, because the self-nominated candidates are sometimes critical of him as they prepare for the post-Macron era, also, this entails the risk of becoming a lame duck. On the other hand, it coincides with Macron's interests to the extent that he still needs someone to ensure continuity and the survival of Macronism. From this point of view, though, Gérald Darmanin is not exactly the ideal successor candidate for Macron: as we have seen, he is not a supporter of the "simultaneously left, simultaneously right" line, but rather of right-wing cooperation.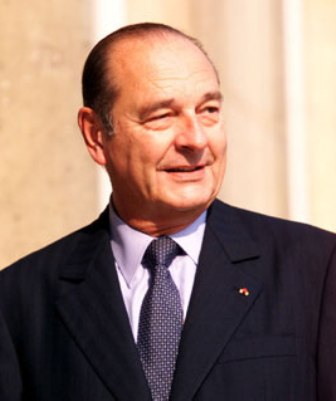 Jacques Chirac was in a similar situation between 2002 and 2007. He was getting old, and although the constitution did not rule out his running for a third time, it seemed clear that a new president would come in 2007. On the right, the main candidate was Nicolas Sarkozy, who was not on good terms with Chirac after he had "bet on the wrong horse" in 1995 and supported Édouard Balladur's campaign. Macron does not yet have a Sarkozy. Gérald Darmanin is no Sarkozy – for now.
Chirac in 1999

Source: David Scull – Wikimedia Commons
Emmanuel Macron has no interest in choosing a successor yet: let them just fight each other!
As long as he is not a lame duck, this noise of battle is not problematic for Emmanuel Macron, since the fight is not against him. But behind – and below him. If the president were to choose someone right now, then of course those who attack his candidate would indirectly attack him too, which would have a problematic effect on the president's authority and governing capacity (even more so if that person were to fall early). Thus, an early nomination of a successor is hardly in Macron's interest.
So if he's smart, Emmanuel Macron won't say yes or no to anyone until he sees clearly who stands out. And when someone stands out, he can still spread his arms for a while saying that "I'm the President of the Republic, not a party man, it's not my job to support candidates". At the end, of course, he can pat the candidate on the shoulder right before the election, which could be an important gesture of support. Provided, of course, that Macron will have an significant popularity among the targeted voters.
(Featured image and licence: Jacques Paquier – Wikimedia Commons)
Kommentek
Kommentek